Ministry Consultant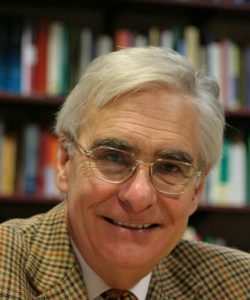 Ordained in 1970, Paul is an experienced minister who has a real 'heart' for ministry.  He enjoys reflecting on the practice of ministry – as also serving as a ministry consultant. Over the years Paul has written widely on ministry matters and has taught all over the world on a wide range of topics related to Christian ministry
Paul is chairman of the College of Baptist Ministers launched in February 2014. Independent of the Baptist Union, the College provides peer support for ministers who find themselves in dispute with their church, as also a framework for continuing ministerial development; it helps ministers seeking advice, spiritual direction, and work consultancy and seeks to promote excellence in ministry, not least through the development of a code of ministerial ethics. For further details see: www.collegeofbaptistministers.com.
As a member of the Society of New Testament Studies as also of the Tyndale Fellowship for Biblical Research, Paul retains his interest in New Testament studies.
Other aspects of his present ministry
Paul is now part of the Chelmsford Cathedral community. Although holding no official position he regularly leads the Cathedral's Sunday morning seminar-style 'Breakfast with the Bible'. Paul continues to preach in churches of various denominations, although he is happy just to be part of the Sunday 9.30 Parish Eucharist at the Cathedral.
Paul co-founded a bi-monthly lunch-time for retired Baptist ministers in Mid- and South Essex, and takes the lead in presenting topics for discussion.
Since 2005 Paul has been a member of the Rotary Club of Chelmsford Rivermead, and was the 2016-2017 club president: see www.rivermeadrotary.org. With its aim of 'service above self', Paul sees his Rotary involvement as an expression of Christian ministry.
Ministry Experience
As Senior Minister of Central Baptist Church, Chelmsford (1993-2014) he transformed a traditional declining city-centre church into a strong vibrant, growing fellowship; at the time he left there were 399 committed members, together with a much larger church community.
As Principal of Spurgeon's College, London (1986-1993) he doubled the student enrolment, increased the faculty by one-third, and developed new patterns of ministerial training
As Pastor of Altrincham Baptist Church, Cheshire (1973-1986) he enabled a small declining church to develop into a strong virile church, quadrupled in size (from 83 to 300+ members).
As a BMS Missionary in Congo/Zaire (1990-1992) he taught Greek and New Testament in the Protestant Theological Faculty of the National University.
Prior to going up to Cambridge Paul served as a 'Time for God' worker with the German Baptists (1962-63), helping with Baptist youth work in Southern Germany.
Interests Beyond Ministry
In Who's Who? Paul lists as his interests cooking, travel and parties! His grand-children are also another major interest!
He is married to Caroline, who is HM Senior Coroner for the County of Essex, and will be President of the Coroners Society of England and Wales 2018-2019. They have four grown-up children: Jonathan, who is an associate professor in Latin American studies at University of British Columbia, Vancouver, Canada, and is married to Fiona, a compiler of computer textbooks – they have one child, David, together with Sophie and Theo; Timothy, is based at University College London, where he is UCL Director of Global Citizenship and Senior Lecturer in European Thought and Culture , and is married to Charlotte, a lawyer – they have two children, Felix and Clara; Susannah, is Head of Early Help in the London Borough of Lambeth, and is married to Rob, an artist – they have two children, Jemima and Raphael; and Benjamin, a freelance journalist, is married to Kathryn, who is Head of English at the British School in Cairo.
Paul is a patron of the Society of Mary and Martha, a retreat centre based at Sheldon, near Exeter, which specialises in supporting ministers experiencing stress, crisis, burnt-out or break-down (see www.sheldon.uk.com).  He is a patron of the J's Young Adults Hospice (www.thejshospice.org.uk) and also a company member of the Havens Hospices based in Essex (www.havenshospices.org.uk).  He is on the Council of Reference for the British arm of the Haggai Institute, which trains Christian leaders for the developing world (see www.haggai-institute.com/haggai-instituteuk).
He seeks to keep fit by engaging in a good deal of walking in the early morning.
An Author
Paul is a prolific author.   With over 350 articles to his credit, he is a regular contributor to Ministry Today UK and also writes for a wide variety of other publications, for the most part reflecting on the practice of ministry.
He is currently seeking to edit Church Matters: creative ideas for mission and ministry – this will contain a selection of his blogs, ordered and edited;
His most recent books:
Living Out the Call, Amazon e-books 2015; revised in 2016 and available both electronically and as soft-backs).  It consists of four volumes: 1. Living to God's Glory; 2. Leading God's Church; 3. Reaching God's World; 4. Serving God's Church.
The Passionate Leader: The Four Foundations of Leadership(The Joshua Foundation, Arusha Tanzania, 2015) written together with Terry Calkin, and is now being translated into Chinese.  Paul and Terry Calkin have written two further books in this series for pastors in the developing world: The Visionary Leader and The Leader with Character.
Paul is the General Editor of Ministry Today UK 1994-2018, which contains all 520 articles of the former journal of MTUK, and is due to be published in the early summer of 2018 as eight hard-back and fully-indexed volumes.
In Spring 2017 Paul undertook a survey of the reading habits of British ministers – the first ever such survey.  The full analysis together with his reflections is found on this website – paulbeasleymurray.com/reading.
Other writings currently in print are:
Radical Believers:  The Baptist Way Of Being The Church(Baptist Union1992, and translated into Czech, German, & Norwegian; revised edition 2006)
Radical Disciples: A Course For New Christians(Baptist Union 1996; revised edition 2005)
Happy Ever After? A Guide To The Marriage Adventure(Baptist Union 1996; revised 2003)
Power For God's Sake?  Power & Abuse In The Local Church(Originally published by Paternoster 1998; but since republished in 2005 by Wipf & Stock, Eugene, Oregon, USA)
Radical Leaders: A Guide For Elders & Deacons In Baptist Churches(Baptist Union 1997; revised edition 2005);
The Message Of The Resurrection:  The Bible Speaks For Today (IVP 2000.  Also published in the USA and translated into Burmese, Chinese, Romanian and Korean);
Building For The Future:  A Guide To Those Considering Entering A Building Project (privately printed, Central Baptist Church, Chelmsford 2003; 2nd edition 2004)
Joy to the World:  Preaching at Christmas (IVP 2005 – also available in a special OM edition in India, Nepal, Oman, Qatar, UAE, Bahrein & Kuwait)
Transform Your Church!  50 very practical steps (IVP 2005)
A Loved One Dies:  Help In The First Few Days (Baptist Union 2005; revised in 2016).
Baptism, Belonging and Breaking Bread: Preparing for Baptism (Baptist Union 2010).
Leading Teams in Larger Churches (2010): teal.org.uk
A Retreat Lectionary (Society of Mary & Martha 2012)
Books no longer in print
Turning the Tide:  An Assessment of Baptist Church Growth in England (Bible Society, 1980) co-authored with Alan Wilkinson; Pastors under Pressure (Kingsway 1989); Dynamic Leadership (Monarch 1990; translated into Swedish); Faith & Festivity:  A Guide For Worship Leaders (Monarch 1991); A Call To Excellence: An Essential Guide To Christian Leadership (Hodder & Stoughton 1995); and Fearless for Truth:  A Personal Portrait of the Life of George Beasley-Murray (Paternoster 2002) He edited Mission To the World (Baptist Historical Society, 1991);  Anyone For Ordination? (Monarch 1993); and along with others co-edited Prayers For All Peoples (Oncken 1993).
A Blogger
Since the autumn of 2011 Paul has been publishing a weekly 'blog', Church Matters, which appears simultaneously on the web-sites of Ministry Today UK, as also on his own personal web-site, and has a world-wide following.
Education
Paul read Modern Languages (German & French: Part 1 of the Tripos) & Theology (Parts 2 & 3 of the Tripos) at Jesus College, Cambridge (1963-1967).   He then trained for the Baptist ministry, first at the Northern Baptist College, Manchester (1967-1969) and then at the International Baptist Theological Seminary, Rüschlikon-Zurich in Switzerland.   In 1970 he was awarded a PhD in New Testament studies (The Lordship of Christ over the World in the Corpus Paulinum) from Manchester University, having spent the final year of his doctoral studies at Zurich University.
Significant Dates
| | |
| --- | --- |
| Born: | 14 March 1944 in London (Ilford) |
| Baptised: | 17 November 1957 in Zurich (Salemskapelle, Zurich) |
| Married: | 26 August 1967 in Wrexham (The Old Meeting) |
| Ordained: | 10 October 1970 in London (Holmesdale Road Baptist Church, South Norwood) |